Comsys Web design offers unsurpassed quality websites in any niche.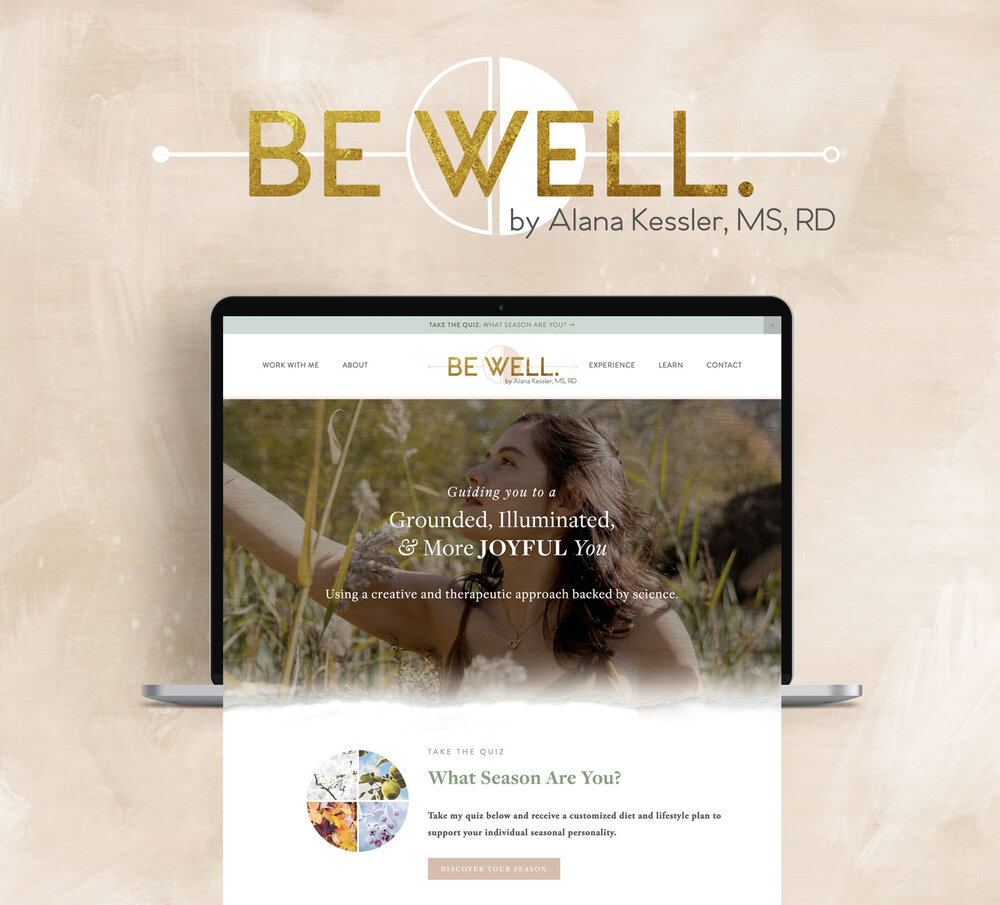 PROJECT

ALANA KESSLER
SERVICES

Logo Refresh
Brand Design
Squarespace Website

PROJECT OVERVIEW
Alana Kessler is a nutritionist and registered dietitian helping clients in NYC and LA. Alana is an expert in her field, writing scientific articles and being featured in multiple podcasts and press outlets. I'm personally a bit obsessed with health and nutrition, so when Alana approached me about wanting to redo her existing Squarespace website and brand, I was stoked to work with a fellow health advocate!
---
Brand Aesthetic + Mood Board
Brand Adjectives
▾

GROUNDED
ILLUMINATED
TRUST
RELAXING
APPROACHABLE
FEMININE

Brand Colors
▾

SAGE GREEN
EARTHY NEUTRALS
DUSTY ROSE
TERRA COTTA
BLUSH PINK
GOLD
CHARCOAL
As we were in the early stages of the design process, we determined how the brand adjectives would need to be conveyed in the overall tone that was set. Utilizing the mood board and color palette, I was able to show Alana my vision for the overall aesthetic.
Her tagline states her mission beautifully, "Guiding you to a grounded, illuminated + more joyful you using a creative and therapeutic approach backed by science." Using this along with our target audience and brand adjectives in mind, I developed a color palette that brought in the soft femininity of blush and dusty pinks, while balancing it out with earthy neutrals and sage green. The gold acts as a beautiful highlighting texture to add warmth and illumination to the brand design.
Alana loves pastel hues, and I think this ended up being the perfect palette that both she and her target customer adore!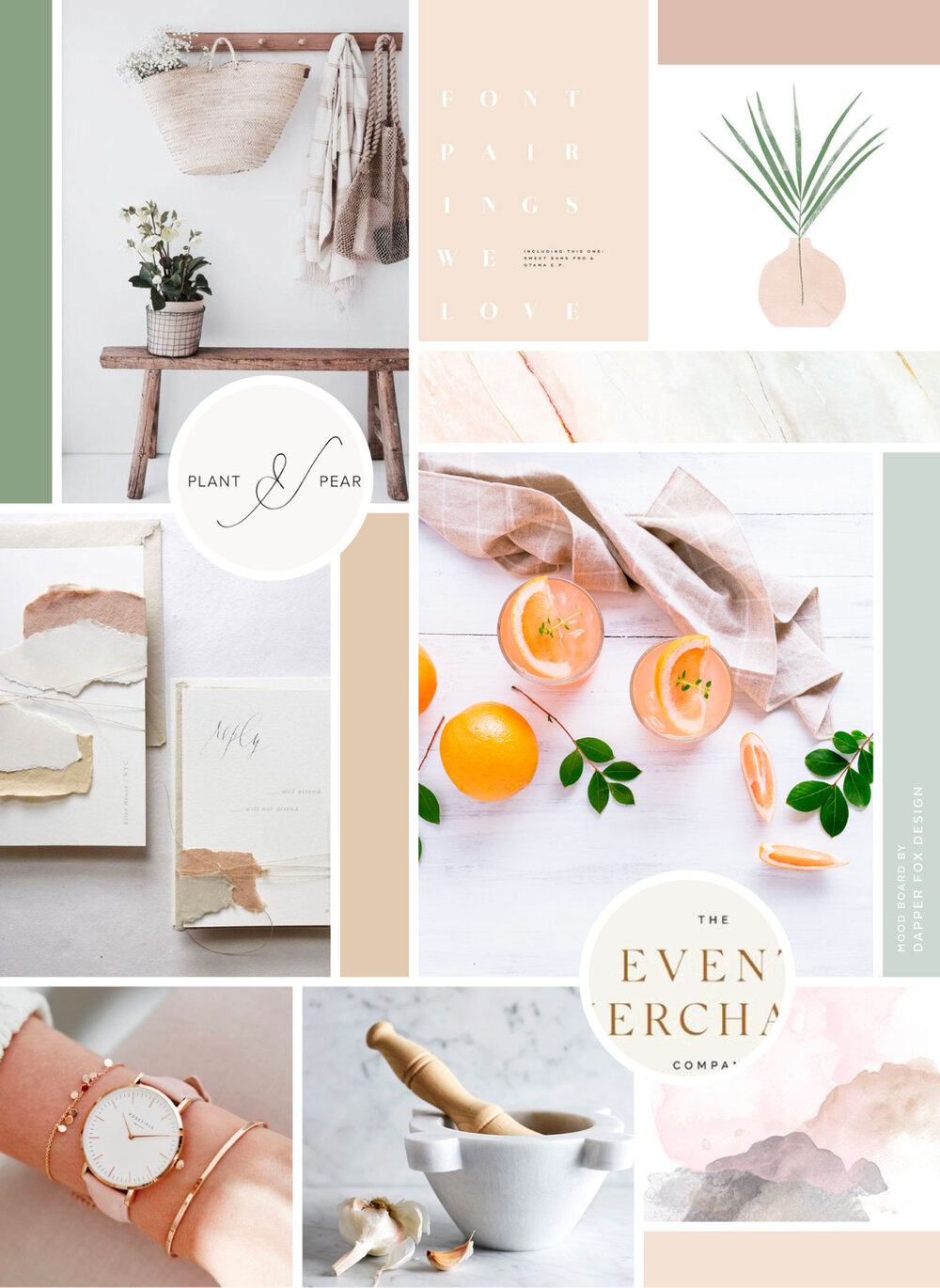 ---
Logo Refresh + Brand Design
Ideal Customer Profile
▾

AGE + GENDER
20 – 53
female
OVERVIEW
Women who are educated, but overscheduled and depleated. They are social, working professionals and looking to reclaim self worth. Women who are looking to develop sustainable habits for physical and mental health.
VALUES
Self Care, Feeling Good, Work/Life Balance, Travel, Relationships, Productivity, Communication and Authenticity.
Alana had her logo created by another artist just a couple of years ago, and just wanted a bit of a refresh. In some cases, I advise my clients that a total logo overhaul isn't needed, and with a couple of strategic tweaks, we're able to make the old design shine.
So instead of a complete rebuild of her old logo, I adjusted the background element's color along with the font to ensure it was more readable and clear. The issue she had previously is that the design didn't allow for optimal legibility with dark text against a dark circular graphic. But I knew that if we altered the colors a bit, the design would be perfect, and I love the way it came out!
For the signature brand texture, I created a series of custom watercolor textures. These were so much fun to digitally paint, and I love how they were able to add such a soft, inviting touch to the visuals. These kind of details throughout a site help strengthen the memorability and add a distinctive personality that will help Alana stand out.
BRAND BOARD
---

---
Squarespace Website Design
website design
TOP GOALS
▾

Provide a visually beautiful and easy to navigate site that clearly guides the user through a simple online experience.
Clearly share the details my programs, retreats, classes and special offerings.
Increase sign ups to my newsletter list.
Coming from a previous site built on Squarespace, Alana was confident about choosing this platform for her new site. We took some time to really think about the strategy behind the new site and how we laid things out. The old site felt cramped and was confusing for users to navigate. So we knew that one of our top priorities would be to help new users understand exactly what Alana does and how she can help.
Alana's offerings are varied between nutrition, yoga, events and more, so we knew we needed more than the standard dropdown which can feel overwhelming for the amount of options. So we utilized a "mega menu" and organized the different options under sub category headers.
To help increase newsletter sign ups, we created a personality quiz that users can take to determine their "season" to get diet and lifestyle recommendations. The quiz funnels through to her email list where we set up a "drip" series of emails to help increase engagement. The results have been phenomenal, and Alana is able to reach tons of new subscribers daily.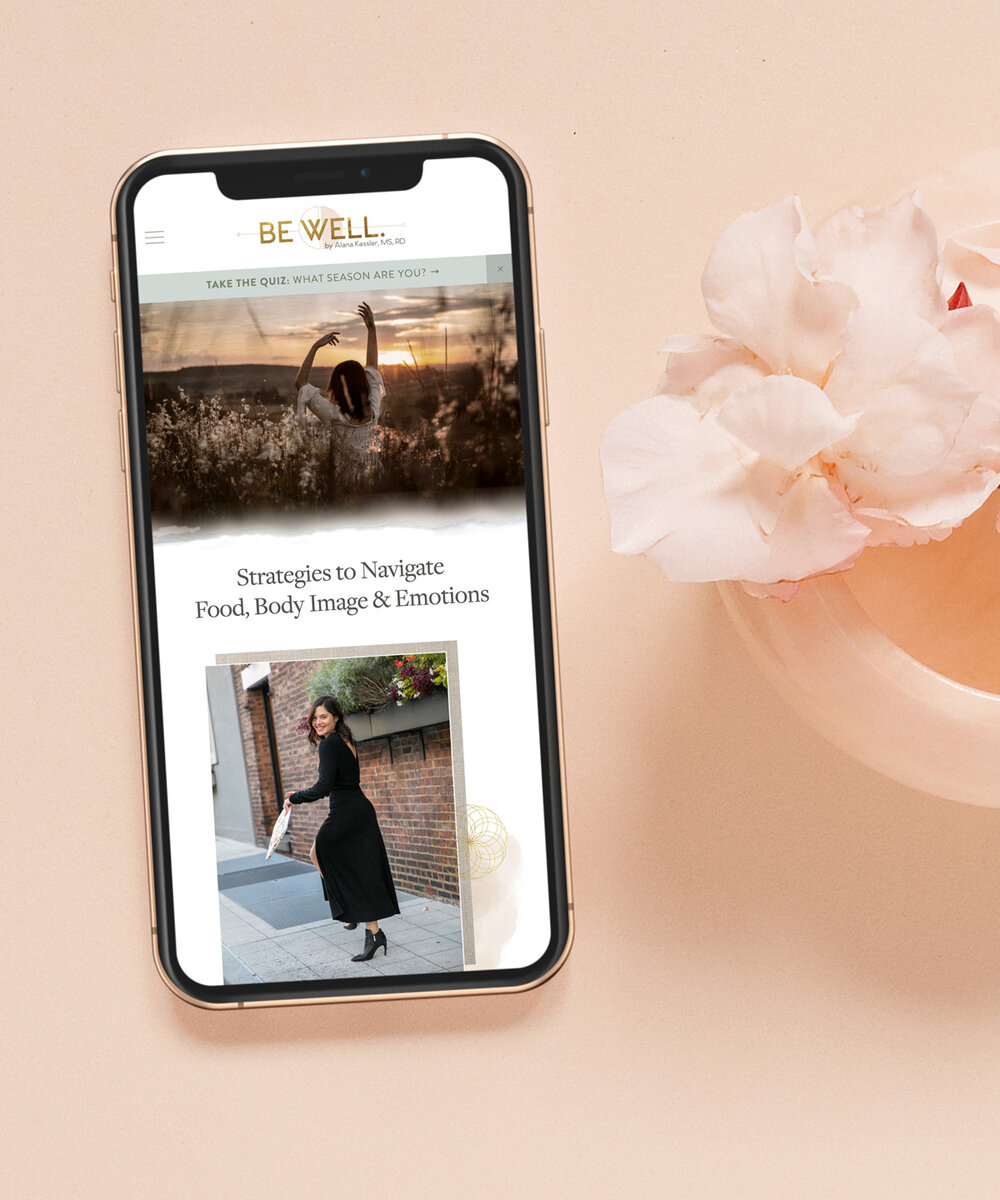 ---
LOVE THIS PROJECT?
Let's create your dream brand together.